Day 1: 40 hours of action
Fuzzy from an overnight flight, straight off to the Nairobi Elephant Orphanage, which opens for just an hour on Sundays for close encounters of the baby elephant kind. We learn of human-wildlife conflict in Kenya.
A dedicated team of carers nurse the injured and traumatised orphan elephants back to health to be released into the wild once more – it's touching stuff.
We lunch at the Muthaiga Farmers' Club, a place where shirts must be tucked in at all times. They serve an incredible roast, colonial-style.
After more than 30 hours awake, up next is meeting Kenyan agricultural journalist Geoffrey Onditi. Half the population of Kenya, that's 20 million listeners, tune in to his daily farming broadcasts. He interviews Andrew Burgess and Antony Pearce on GMOs and the positive role of women in agriculture.
Day 2: Kenyan IPM business leading the way on biopesticides
Early start out of the city, heading for Thika. As metropolitan Nairobi recedes, David Jones, manager of Morley Farms, Norfolk, says: "In Nairobi there is great wealth and great poverty side by side. You just want to see the lives of the poor get better."
We pass a massive Del Monte pineapple plantation. Next, we get well off the beaten track through a coffee farm. Coffee looks like a blackcurrant bush and has fragrant flowers and red berries containing two beans – tasting nothing like coffee.
More information
Agri-Tour Kenya, which gives UK farmers insight into the standards in the supply chain from Africa to Europe, was arranged and guided by Susie Emmett of Green Shoots Productions for Smiths Gore as part their Business Improvement initiative, which receives financial support from RDPE. The nine places on the tour are part-funded.
If you would like to be considered for the next Agri-Tour to Kenya in March 2014 contact This email address is being protected from spambots. You need JavaScript enabled to view it. (07742 598 425) or This email address is being protected from spambots. You need JavaScript enabled to view it. (01638 676 747).
Green Shoots Productions is a specialist communications and production company working to help farmers and other businesses to inform, inspire and influence. By web design work, through training and making film and taking photos, it specialises in sharing the farming story. Find out more at www.green-shoots.org.
That was fascinating, but not as fascinating as the business at the end of the road – Real IPM. Set up by Dr Henry Wainwright and Louise Labuschagne, this is leading a global agricultural revolution in biopesticides.
Using eyeglasses we could see the pest predators, phytoseiulus; they breed in their billions to control red spider mite in rose production, lowering use and cost of chemical pesticides by up to 80%.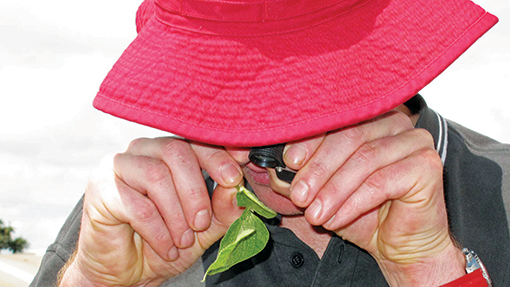 Photo : Charles Bracey looks for pest predators
Delivery methods of biopesticides are interesting. Using bee vectors to deliver a fungus, bacterium or virus to the crop to be protected by placing a "foot-bath" of the inoculum at the threshold of the hive, so bees then carry it to the crop, such as bananas, on their legs, which kills the pests.
They also market crop stimulants they have developed from microbes. Trichoderma seemed the most exciting of all. Studies suggest that it improves root development by more than 40% and nitrogen usage reduces by a similar amount.
Back into the minibuses and a 100-mile drive to the north-western foothills of Mount Kenya. At the roadside we buy fresh mango bananas and pineapples – the best I've ever tasted.
Rising through the clouds, we can see 17,000ft Mount Kenya. The sun is low in the sky as we cross the equator just south of Nanyuki. There, a self-appointed Professor of the Equator, in a white lab coat, popped up to demonstrate the "water down a plughole experiment". Fascinating.
Dusk falls at about 6.15pm as it does every day of the year. Completely dark 15 minutes later.
Day 3: Sunshine and showers on the Equator
Dawn chorus amazing. Deep in wild land way off the beaten track, we bumped and lurched here in darkness but rested well in cosy thatched huts.
In daylight it's a beautiful place. The stunning view of the craggy, glaciered peak of Mount Kenya in the cloudless blue morning sky means it will rain later, we're told.
Apollo Owuor (pictured below), head of production for Kenya Horticultural Exporters (KHE) and a man with a bottomless reservoir of energy for good farming and a constant smile on his face, is today's host. He is production manager for the farm and a network of local outgrowers.
Crops include French beans, tender-stem broccoli, runner beans, cut-and-come-again salad leaves – all mainly destined for the shop shelves of Europe.
Apollo Owuor Kenya
The soil is deep, red-clay loam, recognised as the most fertile in the world. The Kenyan highlands average annual rainfall is greater than in Manchester – more than 900mm. It falls seasonally, but cropping is year-round. The farm has river-filled reservoirs holding two years' supply of water.
Crops are irrigated by either trickle or centre-pivot systems.
Mount Kenya gradually disappears in a heavy sky. The torrential downpour begins just as we reach the new clinic that the farm, together with a premium on produce from Waitrose Foundation, has built and is equipping.
As the rain beats down on the roof, we listen to sombre statistics about the lack of health care.
Day 4: Formula One farm performance
Today it's the northern side of Mount Kenya and the farm of Finlay's, another major exporter of fresh produce. The 945ha farm stretches from the tree line that skirts the mountain to the road that rings the peak.
General manager Marcus Rayner gives us a fabulous tour of all the innovation under way: increasing water-holding capacity, experiments with new crops – a football pitch of protected basil, non-stop attention to detail, constant care for soil to maintain structure, sharp management in a challenging climate.
Jamie Lockhart, of Honingham Thorpe Farms, Norfolk, comments: "These farming teams are very resourceful, conserving soil and water, but also using all the materials around them with a lot of ingenuity, wasting nothing."
Last May, the month after Marcus arrived in Kenya, a three-hour hailstorm hit the farm. Three days later, with the temperature back up to 27C, among acres of ruined polytunnels and hundreds of acres of shredded crops, there were still heaps of ice.
Kenya Agri-Tour polytunnels
In the pouring rain we leave majestic Mount Kenya and head across the Rift Valley to Nakuru along a mix of dirt tracks and hardcore roads.
Enjoying the stunning scenery and conversation, we hear a quiet rhythm from the back of the bus, which gets steadily louder.
Convincing our driver David that something is wrong, we pull over and discover that we have a loose wheel. Out with the toolkit, studs tightened and we're away within 10 minutes.
Day 5: Flower business that's blooming marvellous
The daybreak drive around Lake Nakuru was not to be missed. As the pre-sunrise light illuminated the valley, we saw cranes, pelicans, flamingo, buffalo and rhino at the lake edge.
Next northwards to Eldema Ravine, where Kenyan-owned Ravine Roses grows 70m stems a year for export, employing more than 1,000 people. For every job on the farm, there are eight more created in the local community.
Waste water is channelled into biobeds before near-potable water goes back into the main irrigation reservoir.
Suffolk-based farm business advisor Jamie Gwatkin remarks: "This trip has really opened my eyes, what's impressed me is how customer-focused they are and how much more advanced in terms of sustainable intensification and quality management."
The 10% premium on Fairtrade roses and the money from Waitrose Foundation comes back to a group made up of employees who decide what to invest in to benefit the local community best – classrooms and resource centre housing a surgery, pharmacy, IT centre and library, all built with money from Fairtrade and Foundation flowers.
Tonight we are in a lodge miles down a rough track. We have our usual in-depth discussion of what we have seen and heard while drinking cold beers in the glow of the fire lit for us.
Day 6: Counting on Kenya
Off to the shores of Lake Naivasha. Prepared organic vegetables for Europe are produced on the northern side by the company Sunripe, on land leased from a 10,000ha estate. Here we see a team growing 7,000t of vegetables a year for export, struggling to overcome problems of compaction. Picnic lunch with hippos amid acacia trees.
Kenya Agri-Tour veg
Time's up, back to the airport. Before our overnight flight, we mull over all we've seen and heard. Andrew Burgess, from Produce World, best sums up our thoughts. "It's been an absolutely fantastic week.
I thought my mind would explode with all the information and inspiration."
And me? I've done a U-turn from those doubts about Kenya. Kenyan produce is fantastic and cleverly, carefully produced. A lot is exported on passenger planes and all the jobs provided are much-needed.
I do have two suggestions: more guttering and water butts on homes to store precious rainwater when it falls, and elect a female government – women seem to do the work while men sit around waiting for someone to make their lives better.
Written By Charles Bracey http://www.fwi.co.uk/author/charles-bracey/